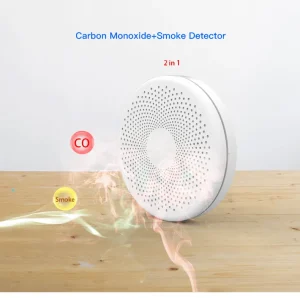 iThe Mono battery-powered carbon monoxide and smoke detector is a high-end and affordable detector that detects smoke and carbon monoxide at the same time.
It is characterized by a long service life, exceptional reliability, stability and high sensor precision. It is used in houses, apartments, apartments, offices and ships.
The correctness of the detector can be checked with the test button. At the end of its life, it warns you with a signal.
iTheMono, the carbon monoxide detector is also managed using the Smart life mobile application, so you can have an insight into the state of the air in your premises at any time.
In the event of an increase in the concentration of smoke or carbon monoxide, the alarm sounds and a message is sent to the mobile device.
Did you know that until 31.12.2022. year, every vessel in every cabin should have a detector/alarm for carbon monoxide and smoke?
Insure your vessels on time. For larger quantities, contact us at sales@itherapy.shop
DEVICE SPECIFICATION
Operating voltage: DC 2 AA 1.5 V alkaline batteries
Alarm sound >85 dB (A9 at a distance of 3 meters
Device dimensions W 31mm, Ø120mm
Device weight 166 g
Device color White
Housing: PVC
Sensitivity to smoke: 0.09-0.17 dB/m
Sensitivity to CO: 50 ppm/60~90 min
100 ppm/10~40 min
300 ppm/≤3 min
Sensor type: Photoelectric and electrochemical
Duration of silent mode: Approximately 10 minutes
Wireless connection: Wi-Fi
Wi-Fi frequency: 2.4 GHz
The app supports: iOS 11.0/Android 5.0
Application: Smart life
THE DETECTOR COMPLIES WITH THE PRESCRIBED LEGAL NORM EN 50291-2:2010.